| | |
| --- | --- |
| | Alumni, Friends & Family Community |


Welcome to St Mary's Music School's Community pages for alumni, friends and family.
A MESSAGE FROM DR TAYLOR
"As a parent, former pupil, member of staff or supporter of St Mary's Music School, you are part of a very special group of individuals. Regardless of when your direct connection with the School ended, how long you were involved with the School, or indeed whether you still are, we welcome you to the St Mary's Music School Alumni, Friends and Family Community. This is a site for you and we hope that you will help make it come to life and worth coming back to time and again. "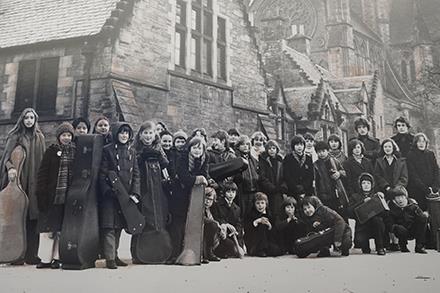 CALLING ALL ALUMNI!
Register to access content just for you.
REGISTER/UPDATE
BEYOND THE BLUE DOOR
For those of you who were a pupil at Coates Hall you will have passed through the blue door of the main entrance many times. If you were a pupil at Palmerston Place we'd love to hear from you too. Our 'Beyond the Blue Door Series' celebrates our alumni across the decades. Read our alumni stories and get in touch if you'd like to be involved.
GET INVOLVED
Whether you are a parent, supporter, friend or former pupil, there are lots of ways you can engage.